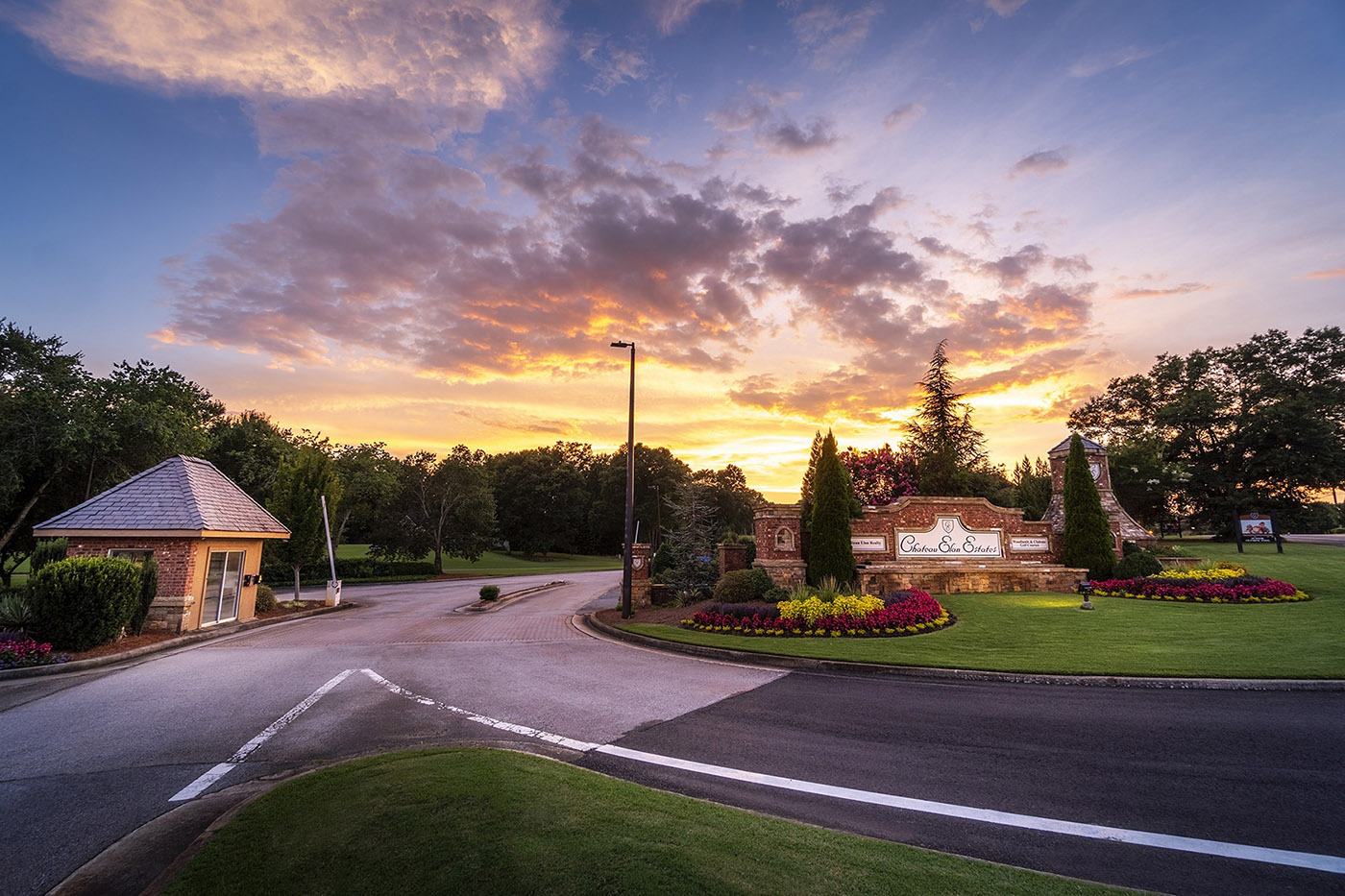 4 Benefits of Living in a Gated Community
We talked to our residents to better identify the main benefits of living in a gated community like Château Élan Estates.
If you're on the hunt for a new home, you have many decisions to consider. From price to size, location, and features. One of those key considerations is whether or not you'd like to live in a gated community.
Château Élan Estates is an exclusive gated community located in Braselton—a small town just 45 minutes north of Atlanta which was recently recognized as the safest city in Georgia. For the last three decades, Château Élan Estates has been working to provide residents with an exceptional gated community living experience.
We recently spoke with some of our residents to get a better understanding of what they see as the main benefits of living in a gated community. Below is the list of the four most popular answers.
1. Safety and Privacy
Perhaps the number one reason why people choose to live in a gated community is the increased sense of safety and security.
Only residents and verified guests can enter through the guard-gated or coded-entry security gates, providing for enhanced safety and privacy. This kind of exclusivity is one of the key factors that usually attracts public figures and celebrities to a gated community like Château Élan Estates.
Additionally, most gated communities have electronic fences, intercom systems, and CCTV cameras for 24/7 surveillance. Even if you are frequently away from your home—due to long working hours or regular travel—you can rest easy knowing that your property is well protected and secure. This increased sense of security is a major benefit, especially for families with young children. As one of our residents puts it, "[at Château Élan Estates] you can walk at any time and feel safe. The community is quiet with approximately 50 children that play throughout the neighborhood every afternoon."
2. Property Value
Research published by the American Real Estate Society found that homes in gated communities command a noticeable price premium of approximately $30,000.
This most likely results from the benefits associated with additional safety and privacy, HOA's tighter controls on maintenance—homes in gated communities also adhere to stricter building codes—, and perceived or actual scarcity of properties—many residents living in a luxury gated community consider to be part of an exclusive club.
However, you must keep in mind that living in a gated community usually comes with higher homeowners' association (HOA) fees which increase the monthly cost of living compared to similar properties in a non-gated community.
This all balances out in a big way with an increased property value. Because your home will meet higher standards of quality and design, you mitigate the risk of losing property value during market fluctuations.
3. Less Traffic
Because only residents and their guests are allowed into the community, there's less street traffic. This is a real benefit for (1) light sleepers who struggle with the bustle and noise of traffic and (2) parents who can rest easy allowing their kids to play outside knowing that there are no open roads with moving traffic.
"[at Château Élan Estates] the local lifestyle path connects local business centers, restaurants, and hospitals with life inside the gates via golf cart paths" explains one of Château Élan's agents. "We want to encourage our residents to do less driving and walk or take a golf cart to make their trip to the store more fun."
4. Luxury Amenities
Many gated communities have plenty of leisure facilities for their residents. From golf courses to swimming pools, tennis courts, and playgrounds. These facilities not only provide residents with options for entertainment and fun, but they also help families maintain a healthy lifestyle and offer an opportunity to meet neighbors and socialize. They are a fantastic way to form a sense of familiarity and trust among the residents and truly foster a community!
Residents of Château Élan Estates, have access to 10 on-site restaurants, a world-class Winery, spa, a 12,000 sq ft sports club featuring an indoor basketball court, a private golf club, 3 golf courses, parks, and walking trials.
Here is what Zack C., one of our residents had to say. "The Château Élan area is one of the premier live, work and play communities of North Atlanta. The best way to describe Braselton is small-town charm packaged with a host of World Class Entertainment, Luxury Living, and one of Georgia's Best School Systems. Braselton is home to the renowned Château Élan Winery and Spa Resort and the Luxury Golf Course residential Gated Community derives its name from the same. The Mall of Georgia is a quick 10-minute drive down I-85 and the area is very convenient to a host of dining, entertainment, shopping, and North Georgia's outdoor playground – Lake Lanier."
Learn More About What Château Élan Estates Can Offer You
Are you interested in living in a gated community in the Atlanta area? Call us at (770) 307-0500 to schedule a tour and discover all that the Braselton area has to offer.