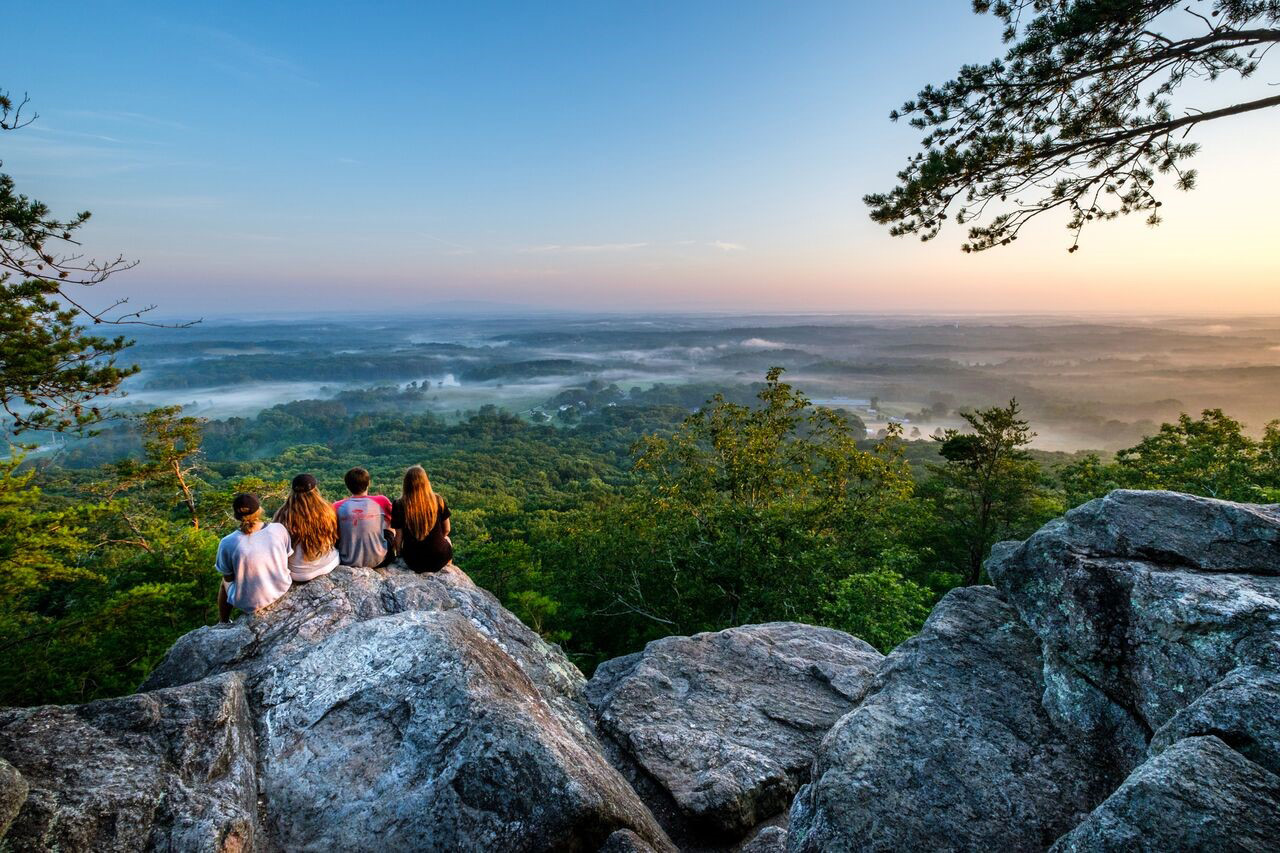 Top 5 Outdoor Activities Near Braselton
To help you take full advantage of Braselton's most beautiful time of the year, we've rounded up a few of our favorite spots for outdoor activities in the area.
The days are getting longer and spring is in full swing, which means it's finally time to take the bikes out of the garage and start spending some quality time outdoors with the family. As parents, we know that nothing is more enjoyable than seeing your children laugh and play with you. But what's more, outdoor activities are essential for children's development and their long-term health.
Braselton is a beautiful destination in Georgia, not only because of its rich heritage and renovated historic buildings, but also because of its charming surrounding nature. So whether you're age two or 62, these sites near Château Élan Estates are a good way to stay in touch with nature while still practicing social distancing.
⚠️ COVID-19 Update: To limit the spread of the coronavirus, some attractions may be closed or have partial closures. Please refer to each attraction's website (linked below) for more information.
Go kayaking, boating, or fishing on Lake Lanier
Distance from Château Élan: 16 miles (30 minutes)
More info: Discover Lake Lanier
Lake Lanier's shores are lined with more than 45 parks and 10 campgrounds. The large area covers a range of recreational activities for everyone's taste—from boating and fishing to camping and canoeing. With more than 7 million visitors annually, the largest lake in Georgia is famous for its excellent rowing, kayaking, and water skiing, but it also offers a great selection of restaurants, shopping, and spa experiences.
If you're looking for unforgettable adventures with your youngest ones, you might be interested in the Lake Lanier Islands Resort—home to the Lanierpark, a waterpark with more than a dozen fun attractions.
Encounter animals at Elachee Nature Science Center
Distance from Château Élan: 15 miles (25 minutes)
More info: Elachee Nature Science Center
A gem in the Piedmont area of Georgia, Elachee Nature Science Center, is a premier nature center great for all outdoor enthusiasts. Offering a wide selection of activities for the family, the center consists of hiking trails, an interactive museum, and a woodland refuge. Close to Downtown Gainesville, Elachee has been supporting environmental education among adults and children for more than 40 years.
Hike the trails of Little Mulberry Park
Distance from Château Élan: 8 miles (15 minutes)
More info: Gwinnett County Parks
Some say that Little Mulberry Park is one of Gwinnett County's best-kept secrets. Magnificent scenery with a plethora of offerings for all ages, the park hosts heart-beating steep hills for running aficionados but also relaxing hiking trails for children and pets. Home to more than 14 miles of trails, meadows, playgrounds, and lakes, the park spreads over more than 890 acres. The park's East Mulberry Trail loop is suitable for observing rich flora and wildlife but is also great for effective workouts because of its elevation change.
And if you can't get enough of nature's beautiful sceneries, we'd also recommend checking out Duncan Creek Park (15 minutes from Château Élan) and Braselton Park (10 minutes from Château Élan).
Explore Georgia's native trees at Thompson Mills Forest
Distance from Château Élan: 4 miles (8 minutes)
More info: Thompson Mills Forest & State Arboretum
Thompson Mills Forest is a research forest and Georgia's official state arboretum, which hosts 90% of Georgia's native and exotic trees, and a pinetum with more than 100 conifer species. But apart from offering research opportunities for the university, the forest also welcomes visitors of all ages to its several miles of walking trails and interpretive educational programs.
Admire Mother Nature's artwork at Gainesville Botanical Garden
Distance from Château Élan: 23 miles (35 minutes)
More info: Atlanta Botanical Garden
A regular spot for community educational programs and events, the Gainesville Botanical Garden, among others, offers beautiful outdoor gardens, hiking trails, and an amphitheater. Тhe garden boasts the most extensive conservation nursery in the Southeast, while the exciting Woodland Promenade includes several impressive rooms, such as the Water, Sky, and Wind gardens.
To find the best garden activities for your preferences, use the center's interactive questionnaire, but make sure you don't miss the gorgeous water lilies that bloom in the waters surrounding the visitor center.
—
Cover photo: Sawnee Mountain in Cumming, Georgia (45 minutes from Braselton)
Photo credit: Kaleb East
—
About Us
Château Élan Estates is a gated golf and country club community in Braselton, Georgia, 45-minutes north of Atlanta. We are located next door to the renowned Château Élan Winery & Resort offering access to resort-style amenities. Beyond our neighborhood, you will find one of the world's best motorsports courses, many dining and shopping destinations, and some of the nation's best schools. We offer Luxury and Estate Homes from the $400's to $3M+. For currently available homes for sale, please visit our featured homes page or get in contact with our team.