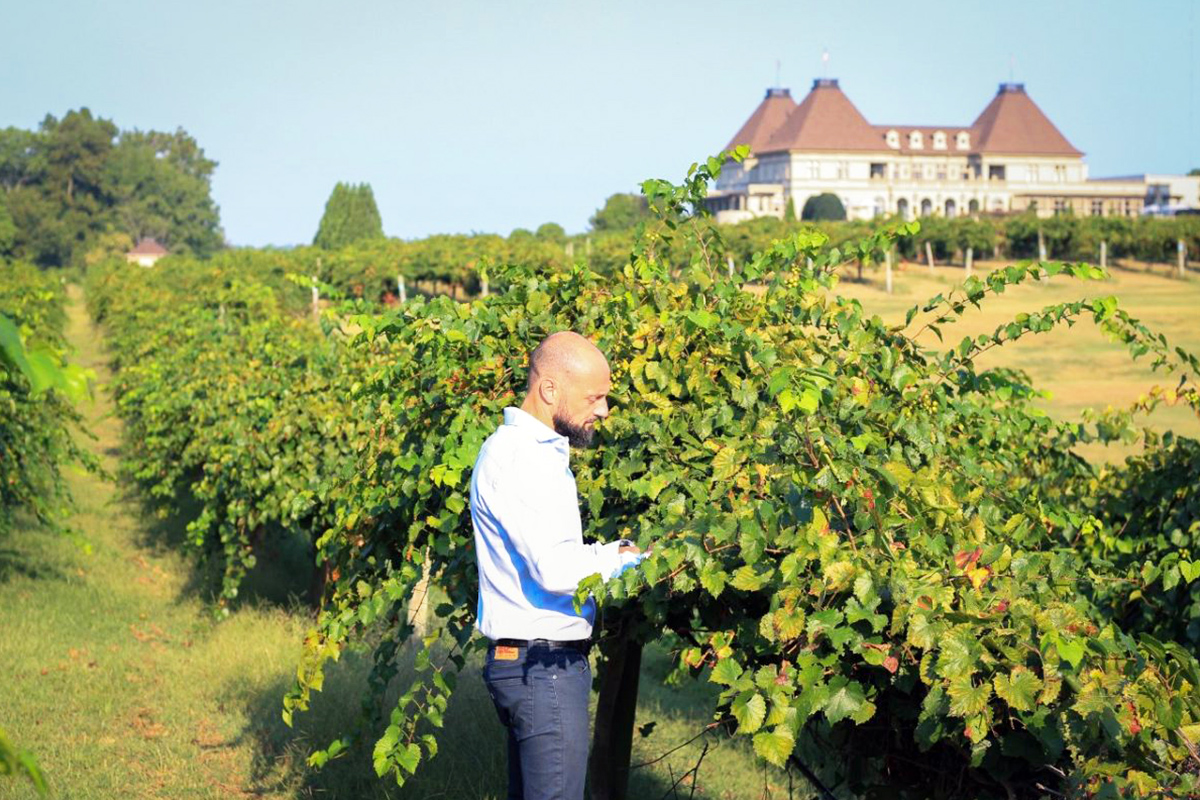 Watch a Wine Tasting Masterclass With Château Élan's Executive Winemaker
You can now watch all four episodes of "Sip with Simone," the virtual wine tastings hosted by Château Élan's executive winemaker, Simone Bergese.
Simone Bergese is the award-winning Italian winemaker responsible for turning Château Élan into one of the best wineries on the East Coast. During the month of April, in the midst of the COVID-19 pandemic, he hosted four virtual wine tastings via Château Élan's Facebook channel.
In these in-depth online presentations, each lasting between 30 and 45 minutes, Simone talks about some of his favorite wines–from the classics, like Cabernet and Pinot Noir, to the signature Georgian Muscadines. Beyond that, he shares bits of his vast experience in the world of wine and answers questions from online participants like "what causes acidity levels in wine" and "what's the best temperature for storing Chardonnay". The 4-episode special is a free masterclass from a true wine devotee.
"Our philosophy in making wine is to make the most sustainable wine possible. Sustainable, meaning healthy. Our red wines are unfiltered and every wine that we make has very low sulfite" explains Simone.
Located in Braselton, Georgia, Château Élan is the closest winery to Atlanta. It's modeled after a 16th-century style château (a French castle-estate) and was first opened in 1984 by Don and Nancy Panoz. Simone joined Château Élan in 2013 and quintupled the winery's production. His wines have won over 150 awards at prestigious wine competitions and he has brought the wine offerings to over 30 types of wine.
The winery offers many tours of its production area and tastings of traditional and muscadine wines. Its Tasting Room is planned to reopen on May 21, 2020. Until the facilities open back up for the public, these virtual wine tastings are a great way to learn about Georgian wines and the style of winemaking that Simone has cultivated in Braselton.
If you are interested in trying some of Château Élan's wines while you are at home, you can purchase them online. 20% of the sales will be donated to Hope Thru Soap, an Atlanta non-profit that provides food and clothing to those less fortunate.
Video links
Episode 1: 'The Classics' Chardonnay, Pinot Noir, Cabernet
Episode 2: 'All About Muscadine' Cherokee White and Red, Duncan Creek, Tropical Breeze
Episode 3: 'The Favorites' Sauvignon Blanc, Velvet, Scarlet
Episode 4: 'Be Bold' Port, Mameli, Tempranillo
Live at Château Élan
Château Élan Estates is a gated golf and country club community located next door to the Château Élan Winery. We offer Luxury and Estate Homes from the $400's to $3M+. For currently available homes for sale in Braselton, please visit our featured homes page or get in contact with our team.